Back to all posts
Posted on
Niitsitapi Day at F.P. Walshe School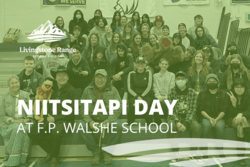 On May 30, 2022 staff and students at F.P. Walshe School celebrated Niitsitapi Day. Niitsitapi means "the real people" in Blackfoot.
The school community was honoured to have members of the Blackfoot Confederacy spend the day teaching, storytelling, and playing with us.
Puppeteer DerRic Starlight, who has worked as a puppeteer for Fragile Rock, from the Tsuu'tina Nation and his Indigenous puppets performed for us. 
Colton Yellow Horn from the Piikani Nation and Judd Black Water from the Kainai Nation  - both professional hockey players - participated in phys ed classes.  
Kyle Plain Eagle and Shane McDougall from the Piikani Nation shared traditional knowledge and played hand games.
Elders Joe Eagle Tail Feathers and Betty-Ann Little Wolf were also present, sharing stories and participating in the various activities.