FNMI
Elder Profiles - Joe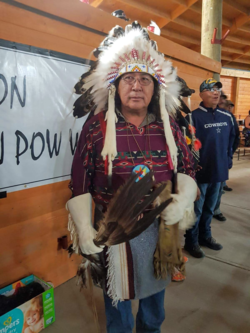 Joe Eagle Tail Feathers – Iitsooahp'potah (Attacks in the Water)
Joe Eagle Tail Feathers is from the Kainai First Nation (Blood Reserve), which is part of the Blackfoot Confederacy & Treaty 7. His parents are Frank Eagle Tail Feathers and Helen (née Chief Calf) Eagle Tail Feathers. Joe makes his home east of Standoff in southern Alberta, and he lives in the same home as his late parents. Joe is a spiritual leader and has been involved in ceremonies all his life. He conducts different types of ceremonies, and he has been doing so on his own since 1995. Prior to that time, he was a helper to and learned under several medicine men including Danny Volon, John Day Rider, Buster Yellow Kidney, Alan Shade, George Good Striker, Floyd Rider, Winston Day Chief, and Allan Prairie Chicken (all but Volon have passed on). He has also learned from several women who have passed on, including Margaret Hind Man, Margaret Running Crane, Lucy Day Chief, and Rosie Day Rider – some of whom were medicine women. Joe is a fluent speaker of his language, and he continues to assist his fellow Blackfoot ceremonialists as both an interpreter and a translator. Since 2007, he has been a leader of a sun lodge: a piercing sundance. In 2021, Sundance Coulee Society became recognized as a registered charity. Throughout the year, the collective promotes spirituality, healing, wellness, and community engagement. Outside of Treaty 7, Joe has extended his ceremonial involvement into the Shuswap territory, Yukon, North West Territories (where he has visited several times), on Canada's East Coast (working with the Mi'kmaw and Maliseet people) and West Coast. He has worked with the Plains Cree and Woodlands Cree in Saskatchewan and northern Alberta. In the United States, he has run ceremonies in Washington, Oregon, and South Dakota. Since 2018, Joe has served as the Elder-in-Residence at F.P. Walshe School in Fort Macleod, Alberta.
Elder Profiles - Betty Ann
Betty Ann Little Wolf
Blackfoot Piikani Nation
Betty Ann Little Wolf is a Blackfoot member of the Piikani First Nation, Brocket Alberta Canada.  She is married to Morris Little Wolf.  They work very closely together and support one another on various boards. Morris and Betty Ann operated a group home on the reserve for Peigan Children's Services from 1986-1990.  They also took many children into their home.  They adopted a baby girl born in 1982, today she is a police officer trained in Regina with the R.C.M.P. This is their beautiful success story.
Betty Ann was employed for over 21 years as a Native-Liaison Counselor at F.P. Walsh High School in Fort Macleod, AB.  In this role, she organized and facilitated Family Group conferencing sessions, and "Healing the Child Within" weekly sessions for grades 10 – 12 students. This program was designed in consultation with Fort Macleod agencies and the AADAC Addiction Counselor from Lethbridge, Alberta. 
As a Native Liaison Counselor, Betty Ann strongly believed in positive role modeling and building positive relationships with the students, staff, and parents.  She worked alongside and supported the students, parents, teachers, and other staff members.  She gave great respect and dedication to her position, as she continued to keep up with techniques in counseling, exploring strategies to promote personal growth and examine the challenges faced by First Nation families.  She practices her customs, traditions, beliefs and spiritual values and respect all, as she believes Blackfoot Culture is key in fostering a connection to identity, as it restores pride and resiliency.  I am a practicing member of the Buffalo Women's Society.
Land Acknowledgement